The 2019-2020 LGBT Resource Center Staff 
The Preuss School Interns work with the LGBT Resource Center three hours per week for 10-12 weeks. The interns are responsible for basic customer service and front desk reception.  They are also responsible for a quarterly project. The project will focus on several things including developing career skills and building community.  Be on the lookout for our Winter 2020 Preuss School Interns!
Joshua Ben-Escher
Rainbow Newsletter
& Marketing Intern

Kaity Avila
Library Intern

Nicole Mendez
Art & Activism Intern

Amber Martinez
Sylvia Rivera Intern for
Politics & Human Rights


Fascio Vallente 
Audre Lorde Intern for
Liberarion & Healing

Claudia Carrillo
Bayard Rustin Intern for
Activism & Education

Kayla
Hiroshi Endowed Social Justice Education Intern

Brian Merino
Community Engagement Intern
Rosie Viirre
Marketing and Outreach Intern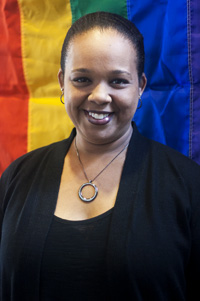 Cat Thompson, Ph.D. 
Hello everyone! As a UCSD alum (Muir), I feel extremely fortunate to be working at my "dream job" here with UCSD students for the past 12 years. I am passionate about issues of Diversity and Social Justice, so I spend the majority of my time working with Oasis and the Campus Community Centers as a Community Psychologist. My office is located at the Women's Center and I spend five hours per week at the Cross Cultural Center and five hours per week at the LGBT Resource Center to facilitate connecting with underrepresented students on campus and making CAPS services accessible to the community. Please stop by and say, "Hi" as I would love to connect with you!


Check back for Cat's updated office hours at the LGBT Resource Center!
Email her at cathompson@ucsd.edu
Korie Houston
Programs & Operations Coordinator

Maribel Gomez
Assistant Director for Education


Dr. Shaun Travers
Director
Bio| CV