News
Support Q Camp!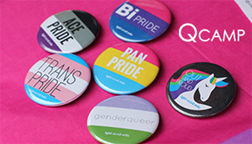 Help fund the UCSD LGBT Resource Center's Q Camp this year! Today we are launching a one month crowdsurfing campaign to raise $5,000 to fully fund UC San Diego's orientation for our incoming LGBTQ students!  Please support today to help make this happen! Levels begin at $10 and go to $500 – and it all makes a difference! Check out our video (https://www.youtube.com/watch?v=3sx510s6rPg) that explains the impact. And you can read more about the impact of Q Camp on the crowdsurfing site at https://crowdsurf.ucsd.edu/qcamp
Help with Q CAMP!

QCAMP Work Party
Tuesday September 22nd 12-4pm
Help us make this the be QCAMP yet! We'll be making posters, buttons, and having fun in community to kick off the 2015-2016 school year.
Free food and refreshments available! Don't miss out :]
Volunteer for QCAMP
Help us make QCAMP a great experience for our new students. Volunteer to be a small group facilitator, or serve as QCamp support on the day of.
To sign-up: bit.ly/qcampvolunteer15
For questions contact mpgomez@ucsd.edu
Events
Q Camp & Q Fair
Wednesday, Sept. 23 | 9am-1pm | LGBT RC

Q Camp
Join us for an orientation to the UC San Diego Lesbian Gay Bisexual Transgender community for incoming students! It is free of charge and open to all students. Priority is given to the first 100 students that register!! If you are a new or incoming student sign up on our website:
Q

Fair
is a resource fair for new and incoming students to learn about the many and wonderful resources at UCSD! Please register your organization or department for
Q
Fair at:
http://lgbt.ucsd.edu/events/Q-Fair.html
Hope to see you all there!
Welcome to the Lesbian Gay Bisexual Transgender Resource Center Online!
The Lesbian Gay Bisexual Transgender Resource Center at UCSD provides a visible presence on campus and enhances a sense of connection and community among LGBT faculty, staff, students, alumni and the UCSD Community. Let the LGBT Resource Center be your home away from home. We encourage you to get involved by visiting the Center and connecting with members of our community. Subscribing to the Rainbow Newsletter will give you up to date information on queer life at UCSD. We encourage you to participate in the student groups, LGBT peer support groups, and the UCSD LGBT Staff and Faculty Association.